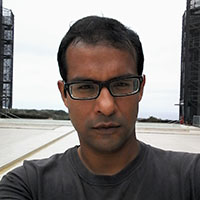 Arko Sen
Postdoctoral Scholar
Arko received his B.Sc from Bangalore University, Bangalore, India where he worked on lead poisoning with NRCLPI and Intel Environment Projects. After completing his B.Sc he completed his M.Sc in Molecular pathology and toxicology at the MRC Toxicology Unit, University of Leicester, Leicester, UK with Dr. Don JL Jones where he worked Discovery of bio-markers of Cadmium exposure using Mass Spec. Following his MSc, Arko worked for a year in development of mobile application solutions aimed at providing access to information for maternal health workers in rural areas of India and Tanzania. Arko then went on to obtain his PhD in Pharmacology at Wayne State School of Medicine, Detroit under the guidance of Dr. DM Ruden and worked on understanding the contribution of epigenome and transcriptome changes in pathology of Post-concussive syndrome. In his free time Arko enjoys travelling, running and reading.​
Lab Alumni
Beth Coyne
Lab Administrative Manager (shared with Verma Lab, Gage Lab), 1/2016-12/2018
Current Position: Full-time Lab Administrative Manager for Gage Lab.
Ishika Luthra
Undergraduate Co-op student, 9/2016-12/2016
Current Position: Research Assistant at BC Cancer
Kayla Chase
Postdoctoral Scholar (Joint with Palmer Lab at UCSD), 2/2016-8/2017
Current Position: Medical Science Liason, Collegium Pharmaceutical, Inc.,
Jing Gu
UCSD M.Sc. Student, 1/2016-9/2017
Current Position: Bioinformatics Programmer, Center for Epigenomics - UCSD
Arya Massarat
Undergraduate Summer Student, 5/2018-8/2018
Current Position: Undergradute Student, Harvey Mudd College
Halimo Farah
High School Summer Student, Heithoff-Brody Scholars Program, 7/2018-8/2018
Current Position: High School Student